With the cold dry weather, we need to be extra vigilant about protecting our skin and nails from damage. Rooted Hemp Co.'s co-founder, Violet Robles, offers up some tips for using Rooted's CBD products to help protect against the winter elements. 
"I love using it as a cuticle oil and for dry fingers and hands." She says. Simply rub the Full Spectrum CBD oil all over your hands. Focus attention on rubbing cuticles, hangnails, dry fingers and hands or palms. 
"I get really dry hands and fingers from working with clay when I'm creating pieces for Violet Oaks Studios, so I use it alot to help my hands and nails recover. And because CBD has antibacterial properties, it helps things heal faster." Who knew CBD oil could be the best tool of an artisan? If you work with any kind of craft, and created high volumns of art over the holidays, you may want to take the next month or two and pick up some CBD oil to help your fingers and nails recover! 
"I like to keep it around for splinters, paper cuts, chapped knuckles and any little owies you might have on your hands." Between all the time cooking, baking and wrapping gifts, we've got lots of owies – how about you? 
Another way to use the Full Spectrum oil this winter: lip balm! Yes, Rooted does sell an amazing and affordable high-potency CBD  lip balm, but if you need some instant relief from dry, chapped lips and the Full Spectrum Oil is all you've got handy, grab it and spread some directly on your lips.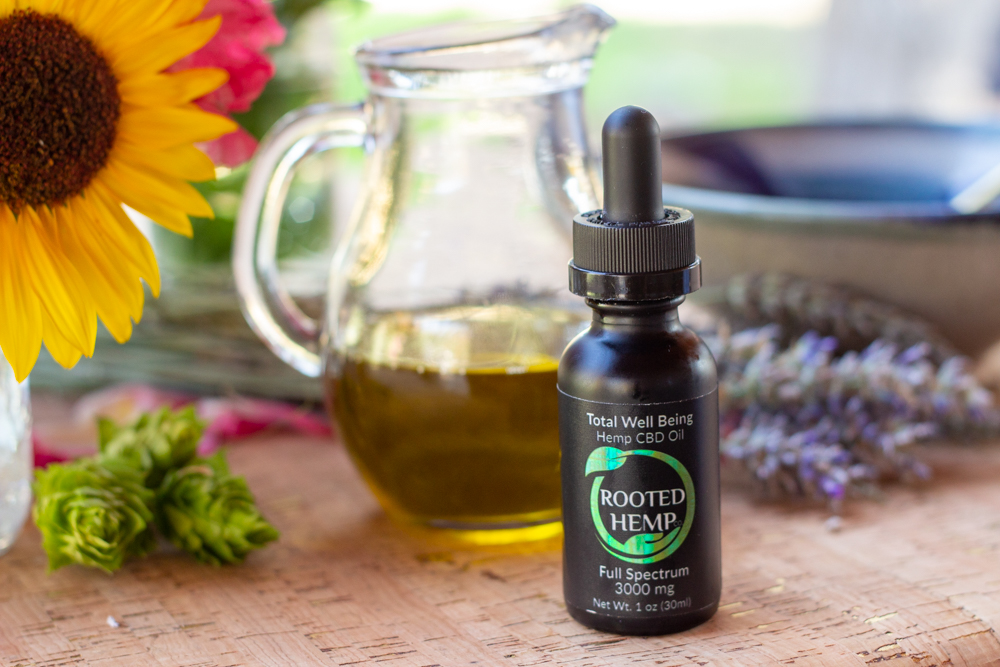 What about sore muscles from winter sports? 
"The Full Spectrum Oil is amazing for sore muscles after you've been out skiing or boarding. Put some in your hands, add a few drops of peppermint or clove essential oil and rub your hands together to mix and warm them up. Then, massage or rub into your thighs or back. It's like a homemade muscle balm – warming and cooling at the same time!" 
A few other ways to use Rooted Hemp Co products: 
Violet suggests using CBD to calm that restless feet/legs feeling in the evenings or at bedtime. "You can rub the CBD Cream or Warming Balm on calves and thighs. Be generous with it, it really helps with that feeling of crawly skin or if you are feeling jumpy."  
You can also mix the Full Spectrum oil into any carrier lotion or body oil for a homemade CBD massage oil. 
Thanks for all those tips, Violet! Find more homemade CBD recipes, tips and inspiration on our DIY blog all about self care. After the rush of the holiday season, we hope you take a moment to pause, reflect, and refresh. Happy New Year from Rooted Hemp Co.!