Rooted Hemp Co. is all about the self care and solo time. You can now enjoy some time on your own in a luxurious bath that eases aches and pains, too! 
CBD Bath Soaking Salts are here! Grab your 8oz pouch for $20 and soak up the relaxation. 
The idea from these salts came from a DIY recipe we posted last year. And while making your own bath salts at home is great, our custom essential oil blend and high potency CBD will ensure that you are getting the quality bath experience you deserve. 
Scents of lavender, bergamot, cedarwood, and thyme fill the air in a calming and fresh scent that is not overpowering. While you're relaxing, these soaking salts are working hard to soothe your body and mind. 2 ounces is 100mg of CBD, so you know exactly what you are putting in your bath!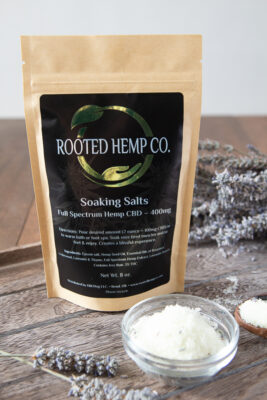 Only the best for the bath: 
Rooted Hemp Co Soaking Salts are made from only the finest CBD and self care ingredients: epsom salt, hemp seed oil, essential oils and full spectrum hemp extract, and lavender flowers. It contains less than .3% THC and our high-potency CBD oil. 
Epsom salt is fantastic for soaking and for smoothing skin. Taking a bath with epsom salts also helps relieve dry, itchy skin and is a perfect way to recover from a workout. Why not make Sundays your regular self-care ritual day? We think a weekly bath is a pretty great idea and our skin loves it, too. 
Here's how to make the most relaxing bath ever: 
Pour desired amount into a warm bath or foot spa. 

Soak sore tired muscles

Try it as a foot soak! 
Go grab some Soaking Salts and get that bath ready – you're gonna melt for this new product from Rooted Hemp Co. Oh, and do you like that spoon in the photos? Order yours from Violet Oak Studio!