It's September and we are celebrating self-care this month at Rooted Hemp Co. We have a couple of fun recipes to share that use our Full Spectrum CBD oil and are sure to leave you feeling properly pampered. We know how it is: back to school, back to work, back to life. It takes a while to get adjusted after a routine change and feeling a little worn out these first weeks of September is understandable. Don't just muddle through it! Take a break with one of our CBD self-care recipes below. Breathe in…. Breathe out… it's going to be ok. 
These recipes are easy and customizable to your favorite scents or ingredients and what you have on hand. They are also easy to use and can be adapted for quick self-care moments or longer, lazier days devoted entirely to your inner well-being. Hey, you could even Netflix and chill while soaking your feet in our CBD foot soak, or trade-off massages with your partner and do some social self-care. It's our ultimate way to multitask! 
Using CBD for Topical Use:
When using CBD for topical applications, we typically recommend using a larger amount than if you were ingesting CBD oil. This is because the skin absorbs CBD differently than when it's ingested. As always, use your personal preference and exercise caution when blending up CBD recipes at home. You can always start with less and add more to your liking. 
CBD Self-Care Recipes:
Rose and Lavender Infused CBD Bath Salts
Add this to a relaxing bath (use 1 cup or the entire recipe for a large bath) or add roughly a cup to a foot bath for a more concentrated soak. 
Ingredients:
2 cups Epsom salts
¼ cup dried rose petals
2-3 tablespoons dried lavender buds
10-15 drops rose absolute essential oil
5-10 drops lavender essential oil
300 mg of Rooted Hemp Co. Full Spectrum 3000 CBD (3 full droppers)
½ cup dried rolled or quick oats 
Instructions: 
In a small bowl, add the Epsom salts. Rub the lavender and rose to release natural oils, and rub or crush up the oats with your hands as well. Add everything to the bowl with the salts and blend all the ingredients together. 

Pour into a jar or container to have at the ready for your next bath. When you are ready for a soak, dissolve your desired amount into warm water and bathe as usual. Optional: place a cup into a linen bag and use it like you would a bath tea.

CBD Massage Oil 
This recipe is easy to put together and provides endless ways to customize it to your liking. You could use any oil that you like to apply to your skin such as almond oil, jojoba oil, or vitamin E oil. You can also customize your scent by adding any favorite essential oil or leave it out for a fragrance-free massage. Some of our favorite essential oil choices include lavender or grapefruit. Bonus: The CBD oil will blend well into this recipe because it is also oil-based. 
Ingredients:
½ cup MCT oil (Fractionated Coconut Oil)
½ cup olive oil 
300 mg of Rooted Hemp Co. Full Spectrum CBD (3 full droppers)
10 drops of your essential oil of choice 
Instructions: 
In a small bowl, blend all the ingredients together. 

Pour into a smaller container of your choice to dispense your massage oil from. Store at room temperature and have a great massage!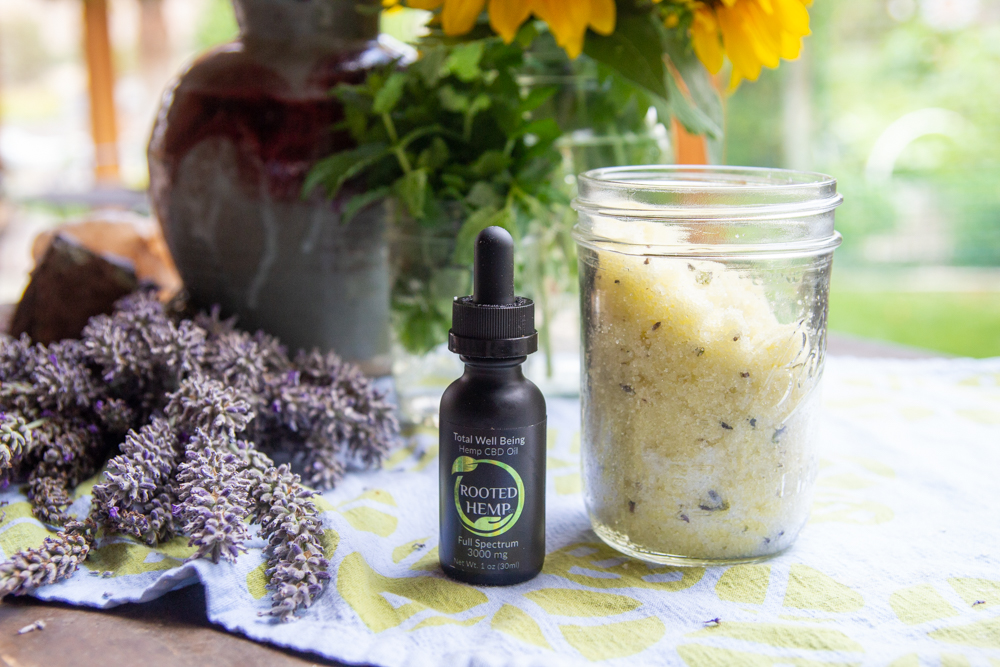 Sugar Scrub with CBD
CBD has antiseptic properties as well as helps to calm and soothe the body. Exfoliate and smooth skin while moisturizing with this easy-to-make recipe! 
Ingredients: 
1 cup coconut oil (melted) 
2 cups turbinado sugar
½ cup granulated sugar
3 tablespoons Vitamin E (optional)
100 mg Rooted Hemp Co. Full Spectrum CBD Oil (1 full dropper)
10-12 drops of your favorite essential oil 
Instructions: 
Combine the two sugars in a bowl and mix to incorporate. Add coconut oil, Vitamin E, CBD, and essential oils. Stir to combine.




Store in an airtight jar and stir before using to re-mix any settled oils.




To use, apply to dampened skin and buff until smooth. Rinse with warm water.


Honey & Hot Oil CBD Hair Mask
This is great to apply for 20-30 minutes before a bath or shower.
Ingredients: 
2 tablespoons raw honey
1-2 tablespoons extra virgin olive oil 
5 drops peppermint essential oil or your favorite essential oil 
50 mg Rooted Hemp Co. Full Spectrum CBD Oil 

Instructions: 
Mix the honey and oils together, warm the mixture to help liquify the honey's consistency (just make sure to test the temperature before applying to make sure it is not too hot). 

Apply the mixture on damp hair and comb it through with fingers, section by section, from roots to ends. Cover with either a shower cap or a warm, damp towel and relax for 20-30 minutes.

Rinse well with warm water, or shower and style as usual. 
Give yourself a big hug from Rooted Hemp Co. and take a moment for self-care this fall. Want to explore more about using CBD topically? Check out this blog all about topicals.