It's warming up outside and we know that spring brings with it a fresh excitement to get outside. Your pup was probably always ready to go adventuring, but now you're actually ready to get out there, too! However, humans and dogs usually feel it a bit the next day. Here's some ideas for using CBD for your dog to help sore and tired muscles. 
Adventuring with your pet
If you are planning on going on more hikes, walks or even taking your dog out spelunking, and you and your pup have been hanging out indoors this winter, you might want to consider how you'll recover when you are back at home. 
Recovering from sore muscles with CBD 
Doing activities you are not used to creates sore muscles, little injuries, like blisters and cracked fingers, and can also dry out your skin in the cool spring air. If you are wondering how you can recover your human body, check out our post "how to recover from a workout with CBD." That's all well and good, but what about your dog? 
Giving CBD to your dog after exploring outside
If your pup is used to exploring the neighborhood and the backyard, they too will likely be feeling a little sore or extra tired after an afternoon of exploring with you. How can you tell? Look out for limping, walking gingerly, or wanting to be on their beds a little more. 
It's hard to see our best friends in pain and tired. Don't worry, we have their little doggie bodies covered too, with our high-potency, Pet approved CBD oil! 
If you are looking to give your dog relief from  Dog has Sore legs and hips: 
Problem: Your Dog has sore legs or hips
Remedy: Dog massage with CBD oil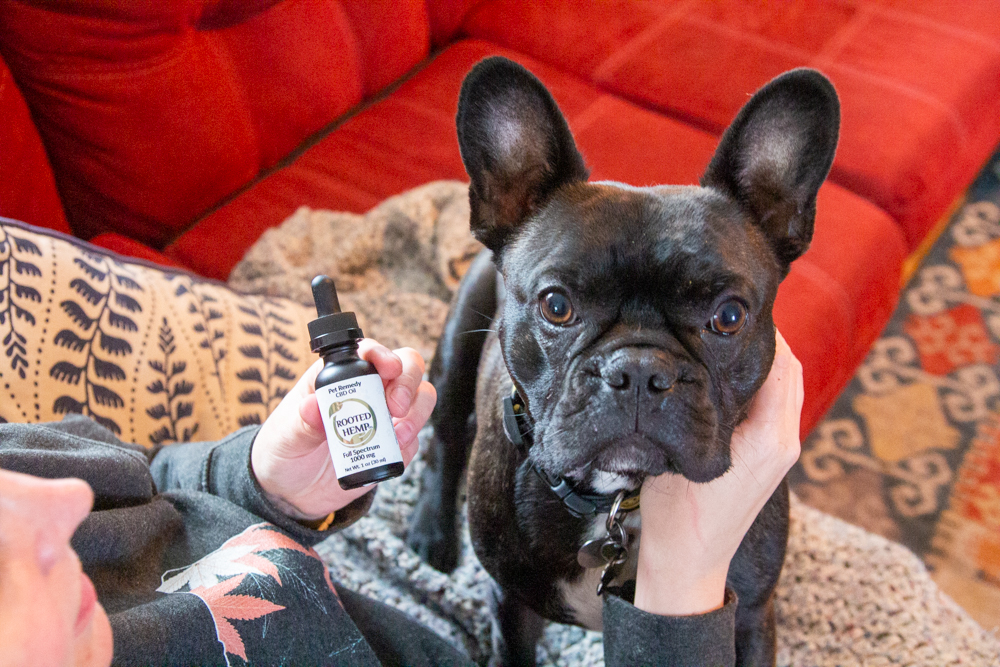 How to do a dog massage with CBD oil: You can use either our Full Spectrum CBD oil or the Pet Remedy CBD oil as a topical remedy for sore muscles. Just put a few drops or even a ¼ of a dropper in the palm of your hand at a time and rub hands together to gently warm, then administer a little doggy massage. 
Start with gentle petting, placing your hands on your dog, petting and talking to them in a soothing voice. This helps calm them down and destress. When they've settled into a comfortable position begin gently massaging their neck in circular motions. 
Move your hands to their shoulders and especially in between their shoulders – it's a spot they can't reach so spend some extra time there! Next, move to the chest and front legs. Some dogs don't like being touched on their legs, so if they flinch or move away, just move to the next part of their body and skip the legs. 
Next move down the back using small circular motions along each side of the spine. Finish with the hips and back legs (it's ideal if they lie down for this part). You can also gently stretch their back legs to alleviate joint pain (if they will let you!) Remember, this should be relaxing for them, so read their cues and only do what they seem to be enjoying. 
Problem: Cracked or split paws
Remedy: Rub CBD oil into paws
If you have been climbing around on rocky trails, you might want to check your pups feet for split, dry or otherwise ouchy paws. Similar to the CBD massage (or even as a finishing step) you can rub some CBD oil into the paws to moisturize and help heal. CBD is antibacterial, and the oil will deliver some much needed moisture. 
Dog still feeling sore? Try a CBD dog treat
Externally applying CBD to pets (and ourselves) helps with a variety of ailments, but to increase relaxation and relief, try offering a CBD dog treat to your pups. We have a lot of ideas for giving them CBD oil [ link to 4 ways to give your dog CBD post ], as well as these homemade dog treat recipes they are sure to beg for. 
Now get out there and explore the great outdoors with your dog! Rooted Hemp Co. CBD is here for you and your dog when you get back.