This Thanksgiving stay calm, cool and keep the CBD on hand! We've got CBD cocktails and recipes to please yourself and your family for the long holiday weekend. Start off with these drink ideas and then scroll down to our Kale Salad – it's a gorgeous addition to your Thanksgiving table.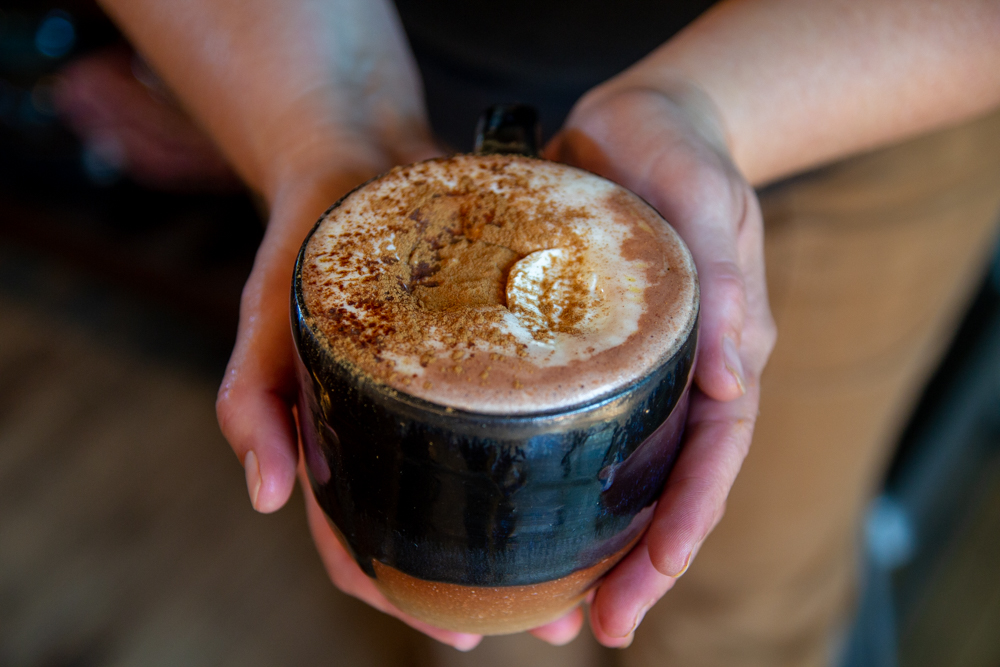 Cozy Cocoa
with Rooted Hemp Co CBD
Rich and chocolaty, it's the perfect comforting drink for a chilly afternoon. Makes 2-3 mugs of hot cocoa. 
Ingredients: 
1 tablespoon mulling spices
4 tablespoon cocoa powder
2 tablespoons sugar
4 cups milk of choice
50 mg of Vanilla CBD Clear Solution
Cinnamon for garnish (optional)
Whipped Cream (optional) 
Directions: 
Simmer in a saucepan on low, whisking until the ingredients incorporate, and letting the spices steep in the milk for 2-3 minutes. Strain and fill your mugs. Add the CBD on top and garnish with whipped cream and a sprinkle of cinnamon. So cozy!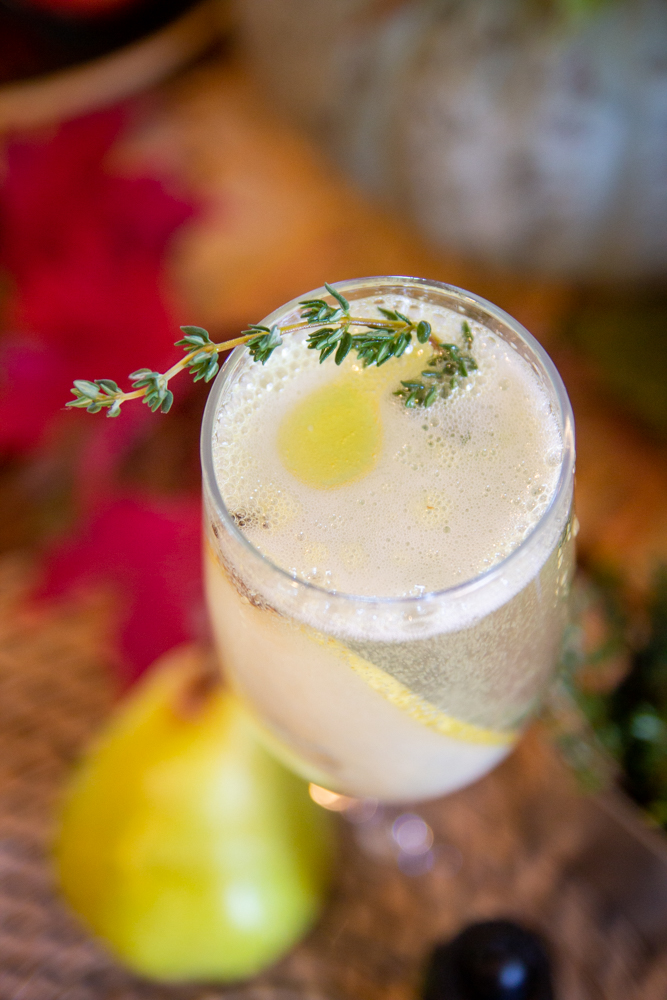 Holiday Prosecco Sparkle
The pear thyme syrup makes enough for many cocktails, make it ahead and you can use it all season long. 
Ingredients: 
1 pear, plus more for garnish 
5-6 Fresh thyme sprigs, plus more for garnish 
1 cup water 
¼ cup honey 
Prosecco 
50 mg of the Vanilla Bean CBD Clear Solution 
Directions: 
Make the pear thyme syrup: Mix the pear, thyme, honey and water in a small sauce pan to make a pear syrup. Let simmer for 5-10 minutes until thick. Strain through a fine mesh strainer, smashing the pears gently. Let cool before using.  
In a champagne glass, add some sliced pears, a sprig of thyme, and about 1 tablespoon of the pear syrup. Fill to the top with prosecco, add the CBD and cheers! 
Britt's Bourbon Bonfire: 
This is the quintessential fall cocktail! It has a fun and smoky garnish that will warm you from the inside out. Makes 1 cocktail: 
Ingredients: 
A few dashes of bitters
Sprinkle of Ground Cinnamon
1 tablespoon of maple syrup
Ice
2 oz bourbon
Splash of ginger ale
50 mg of Vanilla Clear Solution CBD
Cinnamon Stick, burnt on the end a bit for a smoky garnish 
Directions: 
Mix the bitters and ground cinnamon and maple syrup together in a short glass. Fill with some ice, and add the bourbon and candied orange slice. Fill with ginger ale. Garnish with a cinnamon stick that is burnt on the end just until it starts smoking. Add the CBD on top and serve.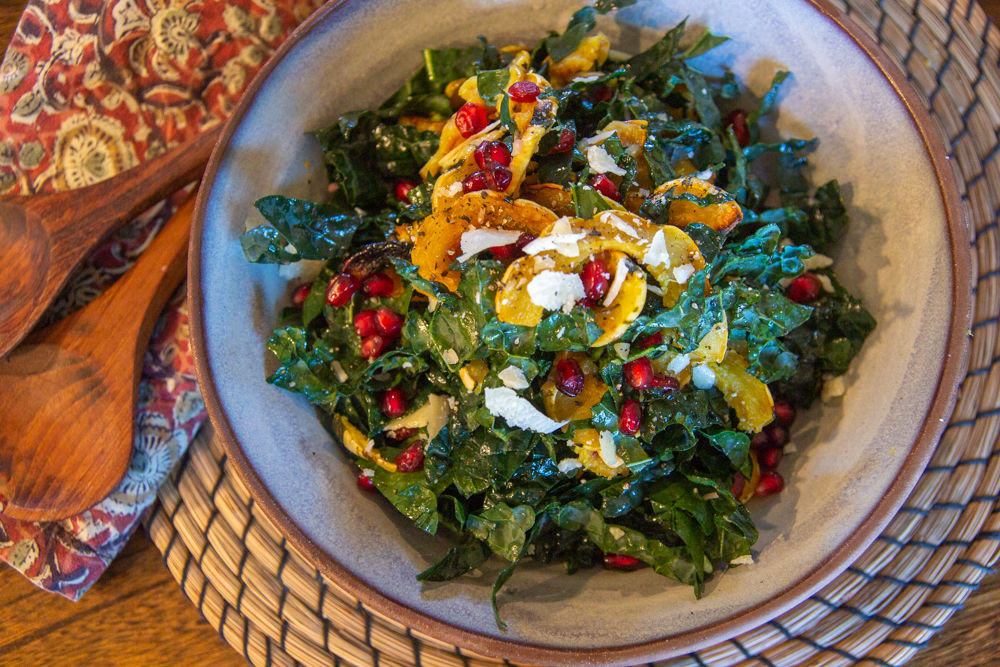 Kale and Roasted Squash CBD Salad
When you need one more Thanksgiving side dish, but your oven is full (and your microwave and your BBQ…) you can make this fantastic salad. Make the roasted squash and the dressing a few days ahead of time and just assemble on T-day. Dinner is fun, done and stress-fress!
Makes 1 large salad
Ingredients:
Kale Salad
1-2 bunches lacinato kale, washed
1-2 small delicata squash 
2-3 cloves of garlic, chopped
2 sprigs fresh rosemary 
¼ cup pomegranate seeds 
¼ cup shaved Parmesan 
Fresh ground black pepper 
Vinaigrette
1 shallot, finely minced
2 tablespoons honey
1 teaspoon Dijon mustard
Salt and pepper to taste
4 tablespoons apple cider vinegar
4-5 tablespoons olive oil 
100 mg Rooted Hemp Co CBD 
Directions: 
Preheat the oven to 400 degrees.Line a baking sheet with parchment or foil add the sprigs of rosemary. 
Slice the delicata squash in half and scrape out the seeds. Slice in to half moons, about ½" thick. Chop the garlic and add it with the squash to the prepared sheet pan and drizzle with olive oil and toss with the rosemary sprigs. Sprinkle with salt and roast in the oven. 
Make the vinaigrette: in a small bowl (or in a mason jar) combine the vinaigrette ingredients. Taste and add more salt and pepper if needed. Whisk, or add a tight-fitting lid and shake well. Set aside. 
Assemble the salad: Remove the stems from the kale and roughly chop the leaves. Add the kale to a large salad bowl and top with the roasted squash. Add the pomegranate seeds and shaved parmesan and toss them together, lightly rubbing the kale leaves. Add to a serving bowl and serve with extra cheese and black pepper if desired. 
Are you set for the holidays? Rooted Hemp Co. can get you on your merry way! Check out our gifts and products for filling stockings or spreading cheer this year. Don't forget, signing up for our newsletter gets you 10% off your next order! The newsletter also gives you all the details on upcoming sales, shopping events, and more great ways to use CBD. Signing up is definitely better than missing out. Don't miss out! Click the green banner below this blog post or on our homepage to sign up and get your discount.