If you are struggling to fill your holiday shopping list, look no further than Rooted Hemp Co.! Who wouldn't love to get some lux and chill products from Rooted Hemp Co. this holiday season? But where do you start and what to choose!? We've got it all dialed in for you in this very special CBD gift guide! 
First off, in case this is a TLDR situation, we'll give it to you straight. Go check out our Gift Set. It includes a sparkly handmade mug, CBD Chocolate, and our Family of Flavors CBD Minis. Only $99 (value of $118). It's just perfect for the holidays and (probably almost) everyone on your list. 
We have more ideas for all the CBD lovers, so read on to be gift inspired!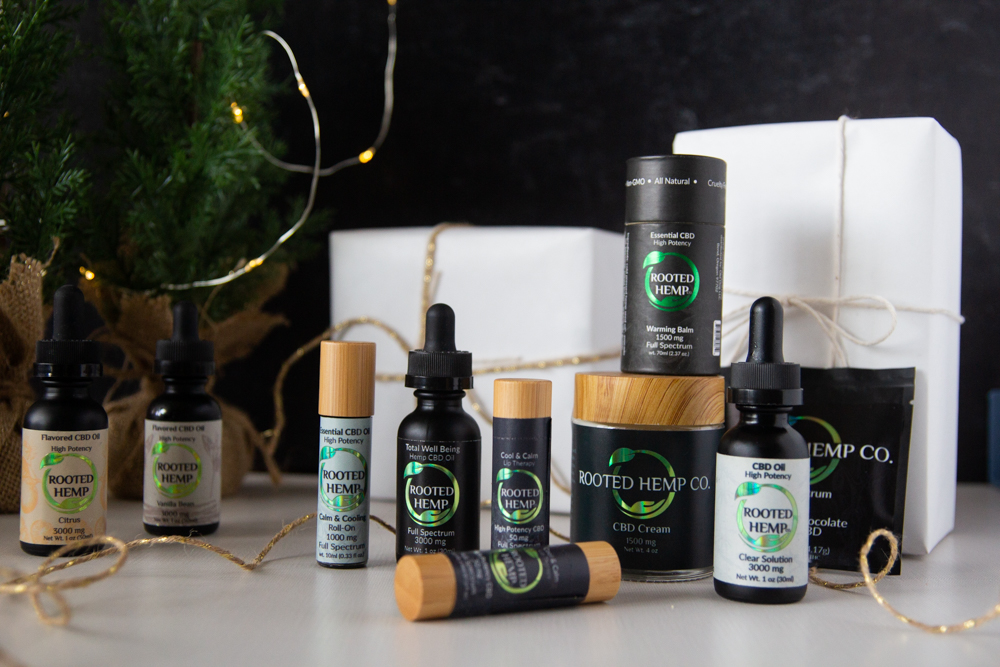 Outdoor Enthusiast
Rooted Hemp Co was born in Bend, OR, one of the best areas in the Northwest for climbing, skiing and mountain biking. We know a whole lot of folks who love to spend time in our beautiful High Desert getting dusty and having a blast! That's why we recommend our high potency topical products, like our Warming Balm and Calm & Cooling CBD Oil Roll-On. Both full spectrum products are infused with organic essential oils, for a blissful recovery. 
New Residents To Central Oregon
If you have family or friends that have recently moved to the High Desert, there's one thing that will surprise them: the dry air. Combined with a higher elevation then the wetter parts of the state of Oregon, it's rough on skin and lips! They need to be sure to hydrate with Rooted Hemp Co.'s Lavender & Lemongrass CBD Cream and also our  50 mg Lip Therapy. Together, they would make a very welcome skin-soothing gift. The Lip Therapy would also make an excellent stocking stuffer for those older kids (or you know, for those of us that, ahem, definitely still get stockings!) 
Movie/Netflix + Chillers
There's no treat more lovely than dark chocolate – except of course, for our Full Spectrum Rooted Hemp Co. Chocolate! Grab a couple squares, a copy of their favorite flick on DVD or a gift card to a streaming service, and throw in some of their other favorite snacks or even a comfy blanket. They'll be binge watching in no time and sending alllll the good vibes your way. 
The Do-It-Yourselfers
Rooted Hemp Co-Founder, Violet is a chef and develops a lot of the recipes we use on our blog with either Clear Solution CBD oil or our Total Well Being Full Spectrum CBD oil. Both work well in recipes depending on your desired outcome and flavor profile. Clear Solution is excellent for more delicate flavors and Full Spectrum is fun to use for at home bath and body treatments. Check out the blog for CBD recipes and ideas. If you know a DIY lover in your life who would love to infuse their goodies with CBD, gift them the best! Rooted Hemp Co. is high potency, small-batch and locally made. Amazing outcomes start with the best ingredients and the home cooks or beauty buffs on your list will appreciate your eye for top quality CBD. 
Aspiring Mixologists
Shake it up with a gift of Clear Solution CBD Oil in either citrus, vanilla, or mint. All make excellent cocktails, or mock-tails, as well as coffee drinks, smoothies or juice blends. We have some super tasty and festive holiday drinks on our Instagram, as well as cocktails and other goodies to help you celebrate with friends and family this season. Why not mix up a batch and then surprise them all with a little kit to make their own at home? It's a double holly jolly holiday gift. 
Pet Lovers:
Pet products at Rooted Hemp Co. are near and dear to our hearts. We love our pets, and we know you do too! We've got all the furry friends covered, with our Pet Remedy CBD 1000 mg oil for the larger breeds or more experienced CBD pets, to the 300 mg that is a favorite choice for the kitties. Of course there's always our 500 mg Pet Remedy for those critters who are happiest being in the middle (middle of the bed, middle of the couch, middle of the party – you know the ones!) 
For the person that has "everything" 
We've all got at least ONE of these people on our list. They need something, they just go buy it, or they don't give us any hints! They are the hardest to shop for, but also the most fun to surprise when we've cracked their gift code. We have a couple ideas for them too! 
Like we said before, we've got a really great gift set right now that includes a handmade mug by local Bend artisan Violet Oak Studio, our Full Spectrum CBD Chocolate, and our Family of Flavors CBD set. And hey, why not pick up a pretty mug for yourself or someone else on your list? New mugs are everyone's favorite. 
If they are a CBD lover, then they will absolutely adore a CBD subscription. Pick out their favorite product and gift them a subscription for 10% off, available in frequencies of every month, 2 months or 3 months. Perfect for the busy person in your life that likes to set it and forget it. 
Rooted Hemp Co offers Free gift wrap
Just write in the comments section of your order that you would like gift wrap, and let us know where to drop ship your order! Let us be your little Santa's helpers! We can even add a little handwritten note to send along with the order.
So there you go, a whole bunch of inspiration and ideas to knock out your gift list in one fell swoop! Now if only the rest of the holiday hustle could be so easy and relaxed… 
Happy Holidays from Rooted Hemp Co.!