It's June and that means we are celebrating dads and our graduates all month long. CBD is one of those gifts that both will enjoy – it's been known to be calming and soothing and could help with all kinds of life stressors. There are plenty of reasons June is the perfect time to gift CBD to the dads and grads in your life. 

Why do Dads love CBD?
Dads do so much for us! If the dad in your life is breathing a sigh of relief when he sinks into his favorite chair and the busy day is over, he might like to try some CBD to help ease his aches and pains. Our topical products will be his new go-to – especially if it's in a small package that is easy to slip into a pocket, like our 1000mg Essential CBD Oil Roll-on. We use cold-pressed hemp seed oil as a carrier oil, along with other beneficial ingredients like vitamin E oil and essential oils, Dad can apply it wherever and whenever he needs to. (Psst, he might also like our Warming Balm – great for aching shoulders and lower back pain.)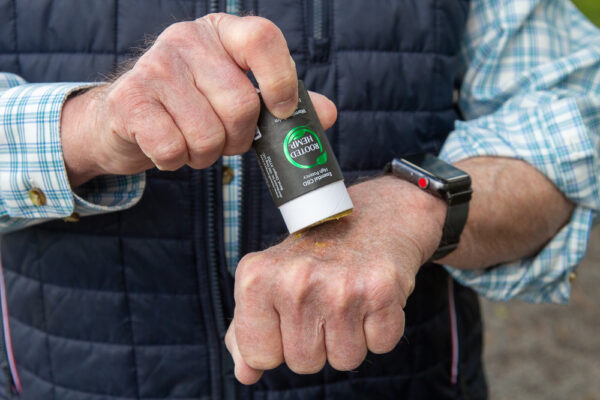 If he's anything like the dads we know, he's probably thinking about what needs to be fixed, what hike he wants to go on next, and which one of the kids' bikes needs air in their tires. Or maybe he's the kind of dad that works hard all week and comes home and makes dinner too and tackles the laundry. Either way, sometimes with that long to-do list, Dad can have trouble settling down at night. Taking a CBD tincture before bed could help, according to a handful of small, trusted studies on CBD and sleep. These studies say that taking 25mg before going to bed (and then increasing that serving size as desired) is a good place to start if you want to try CBD. Good thing our Rooted Hemp Full Spectrum tincture has a measured dropper, so you know exactly how much you are getting. Dads love CBD – especially when it's made by Rooted Hemp. Why? Because our CBD is organically grown and made from local Central Oregon hemp, making it the best quality! 
Why is CBD the perfect gift for Grads? 
Whew, we made it to graduation, amiright? Everyone breathes a sigh of relief and is ready for a celebration at graduation time. But grads are on the cusp of major life changes, and while stepping out into the unknown, away from home, is exciting, it can be scary and anxiety-inducing. We know that not all grads choose to go off to college, but after graduation, all of them are starting a new chapter. 
We can help them ease the transition with things that promote wellness and give them some tangible, positive ways they can reduce the stress these changes can bring. Things like getting enough sleep, eating well-rounded meals (care packages with home-baked goodies and favorite snacks are nice, too), and taking time for relaxing are all important ways we balance stress. 
Taking some CBD tincture like our Clear Solution, can promote feelings of calm while keeping heads clear for all those new big ideas. While the plain Clear Solution tastes great (seriously, there's no skunky flavor to this tincture!) they will also love the Citrus, Mint or Vanilla, and can have some fun mixing it in tea, coffee, or iced drinks too. 
So this month, get all your shopping done for those hard-working Dads and Grads in one place, and send your new graduate off well stocked with CBD! Rooted Hemp Co is rooting for them.